509 Altitude Carbon Fiber Offroad Helmet with MIPS & Fidlock®
Altitude Offroad Carbon Fiber Helmets & Fidlock® | MoreFreakinPower
Altitude Carbon Fiber Offroad Helmet with MIPS & Fidlock®






You're going to LOVE the fit. Try it on and experience our perfect fit. If you don't love it, send it back in new and unused condition within 30 days for an exchange or full refund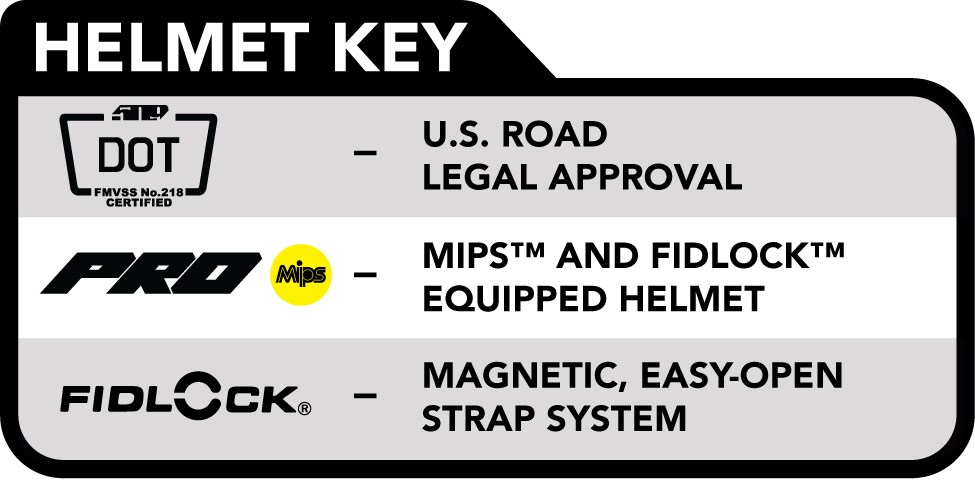 Get state-of-the-art performance and protection with the 509 Altitude Carbon Fiber Offroad Helmet with MIPS & Fidlock®. Featuring the highest level of safety and weight-savings in the bestselling Altitude Series, it gives riders the ultimate comfort and confidence required to reach new limits. The MIPS Brain Protection System is the peak of protection, while features like the Fidlock® magnetic buckle simplify the entire experience in ways you never imagined.

Helmet bag included with all Altitude Carbon Fiber Helmets
Comes standard with universal camera mount
Comes standard with Fidlock® easy-open magnetic strap clasp
Innovative aerodynamic channels & 8 intake/exhaust vents
8 sizes across 3 outer shell molds ensure an excellent fit
Meets and exceeds DOT & ECE 2205 safety certification standards
Revolutionary neck brace ready shell profile
Dual-density, interlocking eps
Removable, washable premium liner
Youth shell starts at 1260 grams
Specially designed expanded polyurethane chin insert
Class-leading eye port opening dimensions, which provide optimum peripheral vision
Perfect 509 goggle fit
One-piece eye port trim

WHAT IS MIPS?
In a helmet with MIPS Brain Protection System (BPS) the shell and liner are separated by a low friction layer. When a helmet with a MIPS Brain Protection System is subjected to an angled impact, the low friction layer allows the helmet to slide relative to the head. The MIPS BPS is designed to add protection in helmets against rotational motion. The rotational motion is a combination of rotational energy (angular velocity) and rotational forces (from angular acceleration) that both affect the brain and increases the risk for minor and severe brain injuries. MIPS BPS has been proven to reduce rotational motion when implemented in a helmet by absorbing and redirecting rotational energies and forces transferred to the brain.
PATENTED SYSTEM
A helmet with the MIPS Brain Protection System offers better protection against rotational motion than one without MIPS. Since 1996 research and tests have been performed to compare a helmet with the MIPS Brain Protection System to a conventional helmet. The results showed that it was possible to redirect and reduce the rotational motion transmitted to the brain by adding the MIPS Brain Protection System.
THE GREAT MISCONCEPTION
Accident statistics show that many injuries occur due to angled impact to the head. However, in standard tests, the helmet is dropped vertically onto a flat surface. The results are helpful for measuring precise vertical impacts, but inferior for measuring the more realistic scenario of an angled impact. MIPS has been developed for reality and increases protection against angled impacts.
The Altitude helmet meets or exceeds DOT & ECE 2205 safety certification standards. It features an innovative dual density, interlocking EPS foam liner that provides top crash protection in the event of an accident. The front chin area of the helmet is protected by a specially designed expanded polyurethane chin insert that provides front impact protection. The outer shell is made of specially designed thermoplastic for maximum shell strength with minimal weight.


Innovative aerodynamic channels run across the entire contour of the helmet. The Altitude Offroad helmet features 6 integrated vent scoops that provide the necessary ventilation to keep you comfortable when riding. Overall the Altitude features 8 total intake/exhaust vent ports.

The Altitude was designed with two key fit metrics in mind: Rider fit & Goggle fit. First, we created a custom interior EPS, matched with a premium removable liner. And because fit is only as good as the overall weight, the Altitude starts at a class-leading 1260g.

We wanted this helmet to not only perform at the highest level but to look good doing it. The shell features sleek, yet aggressive lines that provide an innovative and unmatched look. Everything - from the integrated front mouth vent to the innovative ventilation channels, to the sweeping upward-kicked visor - provides a flowing and seamless transition. Each Altitude comes standard with an innovative universal camera mount that mounts securely in seconds to the top visor mount.